OFFICIAL THAI SCHOOL
Our history and education.
Our site is the most visited independent education site where you can book programs for learning a foreign language.
About school PHUKET RAWAI
When you are looking for language courses at the lowest price, with good quality teaching and an interesting cultural program, we will help you find the best course for you among our carefully selected language courses for students with beginners and more advanced levels.
Our friendly staff will be happy to help you with this.
The school was approved as a professional school of the Ministry of Education on March 25, 2013; Resolution No. 1/2556, managed by Ms. Nattanan Sornkliang as a school licensee.
Later, students became more and more and the school expanded and changed its location to where it is now.
Full school address:
Phuket Rawai Language School
84/52-53 Moo. 7, Rawai Sub-district,
Mueang Phuket.
The total area of the school is 261 square meters. The school is approved as a private school in accordance with Act B.E. 2550. Our school offers a Thai language course for foreigners, various foreign language courses.
The school premises are located in two three-story commercial buildings and comprise a total of 11 classes. The room has one administration room and one room for breaks between classes.
The school was founded in 2013
You spend your time learning.
After paying for the language course, we provide the student with educational material.
When do classes take place?
Classes are held every day, the time of classes should be checked with your class teacher. The exact schedule will be known on the first day of the course according to your level:
Morning: 9:00 – 12:50
Afternoon: 14:00 – 15:50
Required minimum language level:
Beginner (A1) (knowledge of the language is not required) or higher.
At Phuket Rawai School, we collect the entire package of documents and list students in the Department of Education. You only need to choose a course at our school, conclude an agreement with us and pay. All this can be done remotely (online).
OUR PRESENTATION
Documents for a student visa can be issued only by those educational institutions that have a license from the Ministry of Education of Thailand.
Emphasizing Languages, Preserving Culture, Leading Towards International
Our Thai language classes in Phuket are held with experienced Thai language teachers, native speakers. We produce our own tutorials and materials for beginners, which we have developed over more than 7 years of teaching the Thai language.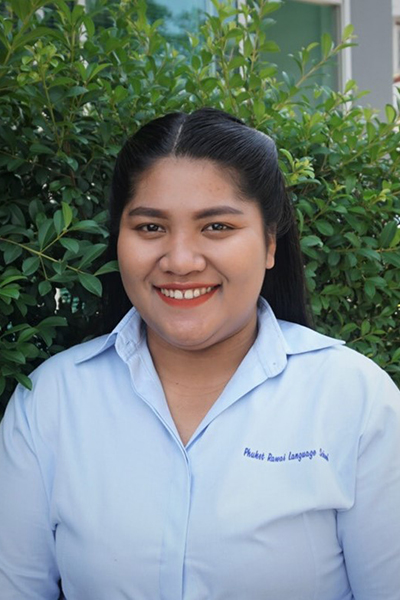 MAI
FAA
KEY
LITA
KATHY
OUI